H2O Disc Golf History
WHO WE ARE:
H2O Disc Golf...(which was originally short for Highrollin' Hombre Oddman Disc Golf, but has since taken hold in the disc golf community as the shortened version H2O DISC GOLF)...is a collaborative disc golf organization dedicated to bring those that love the competition of disc golf together in a high(er) stakes format while keepin' it a fun atmosphere that allows HOMBRES from all different clubs to hang out with different players and try different courses in the mid-Florida area.
THE STORY:
As with most of us disc golfers, I am hooked on the sport. I enjoy going to leagues, doubles, and especially tournaments. I rarely play practice rounds (even though my game tells me I need more), as I much prefer competition rounds. I actually thrive on it.
A concept started rolling around in my head and was rather persistent. I kept thinking about all of the things that I enjoy about handicap leagues, doubles events, and all of the different tournament formats. I wondered if there was a way to combine all of those into one event that I, and others, would enjoy going to.
All of those best-practice, most-enjoyable ideas starting attaching themselves to that concept as it rolled. Ideas like:
- Lots of CTPs (closest-to-the-pin)
- Big Ace Fund
- Larger payout than league handicaps and/or dubs, but not as much of a buy-in as weekend tournaments
- 1 day event
- Playing with and meeting new players from different clubs
- Playing on new courses
- Traveling event all around Central FL
- Frequency of less-often-than weekly like leagues, yet more than once-per-year like club tournaments. Monthly sounds good!
- Black and white event format with predetermined structure
- No politics, just fun
- And the ideas kept rolling in...pre printed scorecards, clip-boards, pencils, custom CTP flags with sharpies hanging on them, custom Artwork raffle, drinks for the players on these FL summer days, etc etc etc
...And so, I decided to take action on this concept.
I knew that this undertaking was going to be tough to take on by myself, but I knew that I didn't want to make it death-by-committee, so I brought on the most talented level-headed like-minded person I know. My daugther, Mikayla! She has been instrumental in vetting these ideas and running these events with me. Together, we bounced different scenarios off each other. We talked about what might work and what might not. We laid out guidelines, structured format, discussed scorecard layout, approved/denied logo concepts, and bounced names off each other. The name that stuck?!!! H2O DISC GOLF...and thus it was born!
The first event was held at Barnett Park in Orlando, FL on 11/22/15. I knew it might take a little bit of time for it to catch on, so I was hoping for at least 10 players. 21 players showed up to the first event! We have been running the H2O Disc Golf Monthlies ever since, with an average attendance of 23 players.
As long as the players are still enjoying themselves, H2O Disc Golf will continue to provide the level of service and quality of events that you have supported. Mikayla and I thoroughly enjoy the H2O Disc Golf players and atmosphere each and every month, and look forward to planning future events.
Thank you!
- Brad Smith and Mikayla Smith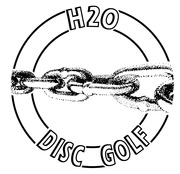 H2O Disc Golf Management:
President / CEO / Big Kahuna
--
BRAD SMITH
Vice President / CFO / Bigger Kahuna
--
MIKAYLA SMITH
Contact Information: